HEMATIME FITNESS PERSONAL TRAINING MILPERRA
THIS COULD BE THE FIRST STEP
TO A FITTER, HEALTHIER, & STRONGER YOU...
REACHED A PLATEAU AND WANT TO TAKE IT TO THE NEXT LEVEL?
Tired of sweating it out on your own and not getting results? 
We're here to help! 
Complete the form below to claim your FREE 30 mins Personal Training session and we'll be in touch to schedule a booking.
BECOME OUR
NEXT SUCCESS STORY AT
HEMATIME FITNESS…
Hematime Fitness Personal Training Milperra specialises in body transformations. 
Our Fitness Australia certified, and registered trainers will expertly apply their wealth of knowledge of training and nutrition to build a personalised exercise regime to suit you. Our exercise programs are specifically tailored to YOU!
Listed below are just some of the many benefits Hematime Fitness Personal Training Milperra has to offer.
Accountability
Stay focused and committed to creating healthier lifestyle habits and improve your chance of successfully accomplishing your health and fitness goals.
Scheduling a personal training session will keep you accountable to your training sessions each week, and in turn keeps you on focused and on track to burning fat, improving your health and transforming your physique.
Motivation
Motivation is the key to fitness success. Regular exercise can be quite difficult to maintain when motivation is low. Personal training sessions enhances motivation levels as your trainer sets realistic benchmarks for you to target and accomplish.
Nothing is more motivating than improving your strength and fitness levels but more importantly watching your physique improve.
Variety
Whilst motivation is the key to achieving fitness goals, variety is the key to keeping you motivated. Doing the same thing over and over can get quite monotonous very quickly. Our personal training sessions offer variety of different exercises from different disciplines to keep your sessions exciting. Don't like running? Well, you don't have to! We'll mix things up in your sessions from boxing to flipping truck tyres, depending on your current fitness levels.
Efficiency
Time is of the essence these days. With the busy lifestyles that many of us lead, it's important to utilise the time you've set aside for training wisely. Our expertly structured personal training sessions use scientifically based exercises to turn you into a caloric furnace so that you don't have to spend hours on end at the gym. Personal training sessions are held within our personal training studio located in Milperra inside of our Hematime Fitness HQ facicity located at the  Milperra Sports Centre. 
The success of our clients reflect the quality of our trainers. Our trainers pride themselves in the results we generate and our success depends on the success of our clients.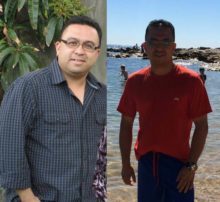 Marty Reyes
Lost 14cm in 12 weeks
Kaylee Smith
Lost 2.64kg of Fat in 6 weeks
David pagano
Added 5.7kg of muscle
Pani economou
Lost 17cm in 24 weeks
Brian stevens
Lost 14kg in 12 weeks