NEED HELP YOU ACHIEVING YOUR HEALTH & FITNESS GOALS?
GRAB YOUR FREE 3 DAY PASS TODAY!
✔️
Unlimited Gym sessions
✔️Unlimited Group Training sessions
✔️ Trainer induction & Gym equipment tutorial
STATE OF THE ART EQUIPMENT
POWERED BY TECHNOGYM
STRENGTH MACHINES
PIN LOADED & PLATED LOADED MACHINES
CROSS TRAINING AREA
FUNCTIONAL TRAINING
GROUP TRAINING SESSIONS
ADD VARIETY TO YOUR WORKOUTS
LOADED FREE WEIGHTS SECTION
DUMMBBELLS UP TO 60KG
Boot Camp 6am
Rip60 6:30pm
Boxing 7pm
Boot Camp 6:15pm
Booty Blitz 7:15pm
Boot Camp 6am
Rip60 6:30pm
Kickboxing 7pm
TRAINING TAILORED to suit your needs
We believe in a holistic, sustainable, & personalised approach suit your lifestyle and needs!
We personalise YOUR Training program to suit YOUR needs.
Our unique environment offers state of the art equipment, Group Training classes and a training environment we guarantee you won't find anywhere else…
Plus, we've got all the best parts of a traditional gym too. Get the Hematime Fitness experience and see for yourself!
ENTER YOUR DETAILS BELOW TO CLAIM YOUR FREE 3 DAY PASS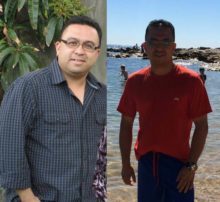 Marty Reyes
Lost 14cm in 12 weeks
Kaylee Smith
Lost 2.64kg of Fat in 6 weeks
David pagano
Added 5.7kg of muscle
Pani economou
Lost 17cm in 24 weeks
Brian stevens
Lost 14kg in 12 weeks
CONTACT US
MILPERRA GYM
PANANIA GYM 
REVESBY GYM
EAST HILLS GYM
CHIPPING NORTON GYM
MOOREBANK GYM
GEORGES HALL GYM
HAMMONDVILLE GYM
LIVERPOOL GYM